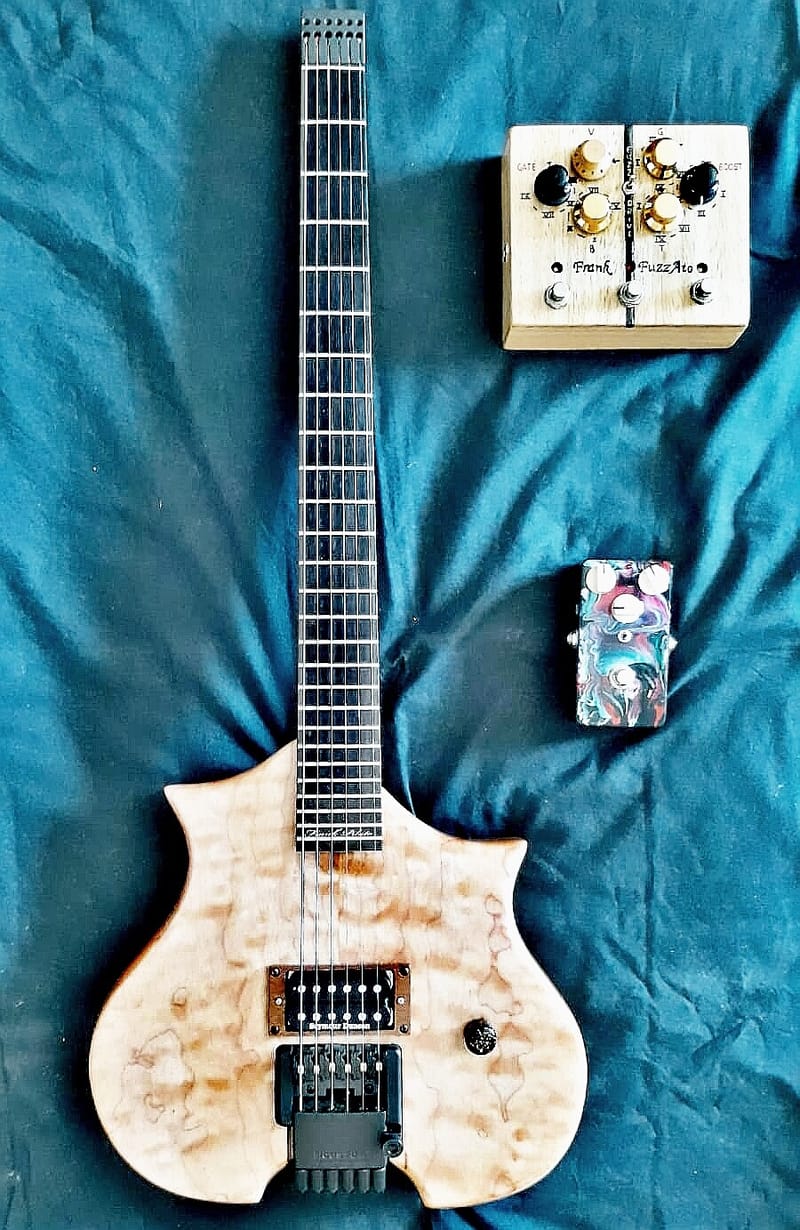 Being personal is a way of life:
Fan and Friends often ask me about my gear...
it is time to clarify at least one part.
Today there are many endorsers who demonstrate for high-sounding names of world brands (pedals, guitars, amplifers, racks etc).
If I had been a "normal" musician, I would have succumbed to the charm of endorsement, the problem is that I have never found an instrument and pedals on the market that satisfied me.
The reasons ? The most varied: from the cuts of some frequencies for me unacceptable to materials not in line with my thinking, from very full guitars to keys and curvature of the handle for me aliens.
And I always used to go for the nasty business.
Over the years I have had some requests, always refused because I didn't like the products.
Not that they weren't great tools, on the contrary, the problem is that unfortunately the product is made for mass and I'm not the mass, so it's the instrumentation that has to adapt to my idea of sound and not the other way around.
It is true that being an endorser gives you (today) a substantial discount on equipment and a lot of visibility, but what is the point in buying an instrument or a pedal and then not using it?
If I had been another musician I would have accepted, it's just that I don't know how to play with normal stuff, and the very idea that someone else can have it the same, pisses me off!
This is a problem I will address later, perhaps with a psychiatrist.
- Many years ago I had the privilege of getting to know Rick Canton by Allan Holdsworth and it was love at first sight for his instruments ... perfect instruments, not surprisingly Allan used his.
So why not? Between a chat and the other we decided to make a tool based on my specifications: a really special tool with unique features.
- As for the pedals, I changed about 300 between overdrive and distortion, then in the end in 2011 I met John Landgraff (Santana) in New York and I got to try his splendid pedals, but also on that occasion I needed of something personal because I could not get what I had in mind in summary; so in my short stay in Pensacola (FL), we studied a pedal based on my specifications: an Overdrive that to say incredible is little. Rest in peace John, my friend, you are always in my thoughts.
- Last year I had the honor of getting to know the Geni della Dapia (Nico Stufano) in Perugia who made an OVERDRIVE / FUZZ / BOOST / NS for me: FRANK FUZZATO.
I admit I did a little crazy, but in the end the result was sensational, to say the best pedal I ever had.
These are the three products done to my specifications.
Being personal is a way of life, so either you are or you are not. This is another story.